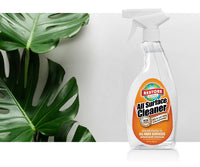 A cleaning solution for every occasion.
Everything from a greasy stovetop to outdoor furniture can be handled with this ready-to-use product. This cleaning agent has been formulated to be pH neutral making it safe and effective for ALL hard surfaces. This is truly a product that was created with the home in mind!
Shop this product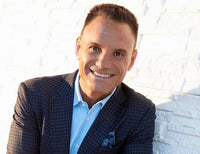 As Seen On TV
"Hi, I'm Kevin Harrington, original Shark from Shark Tank. Restore Naturals has some of the most effective, eco-friendly cleaning products in the world. You've got to check them out!"
-Kevin Harrington
Watch Video
We are the cleaning solution.
Our entire line of products are made with natural ingredients – never with harsh chemicals. We only use plant-based ingredients like soy, orange, coconut and corn rather than petroleum, chlorine and ammonia. And RESTORE NATURALS cleans as well or better than toxic products.

Discover Restore Naturals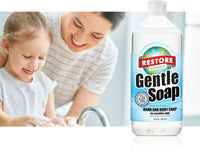 Pickup available on all orders.
Skip the shipping as well as the shipping charges! Enter PICKUP in the code section when checking out and your order will be processed for you to pick it up at our location.
Pickup Instructions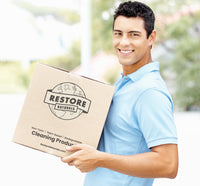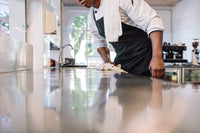 Wholesale & commercial opportunities.
Want to offer a selection of Restore Naturals Products in your store? Or buy it in bulk for eco-friendly cleaning of your facility? We have both Wholesale and Commercial opportunities for your consideration.
Get More Information
As principals of The Housekeeping Channel (HC) and The Healthy House Institute (HHI), we have tested products from many companies. We personally use Restore Naturals' Gentle Soap both at home and in the office and believe it to be "best in class" as a healthy, effective daily-use alternative to conventional soaps and detergents.

- Allen Rathey and Kerry Rathey
With so many cleaning products to choose from it often is hard to sort out the best. Once I tried Enzaway I knew immediately I found a product that I would never be without. I use it for all kinds of food based stains and have amazed my friends as they watched a stain disappear. Having a small dog, it has been essential to have on hand to handle both stains and smell. Enzaway is the best.

- Linda Hanson
I am a solo cleaning person in Duluth, and want to say that I love your products! They are so much nicer than other non-toxic brands. I especially love your Bathroom Lime & Scale Remover, and your oven cleaner is the best I've used.

- DJ